Accounting is Essential
---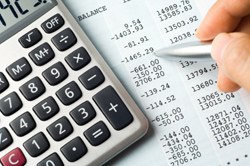 Proper accounting is the most important part of a successful business. In fact the success of a business largely depends on the staffs' ability to maintain proper accounts of the transactions and prepare proper reports from the records that would reflect the financial condition of the organization. Business organizations have a lot other important tasks to do besides maintaining accounts. This is where we come in. Outsourcing the accountancy tasks to Engineering Services India can prove to be beneficial both technically as well as financially. The accounting services that we offer are tailored to meet the requirements of our clients down to the last detail so that they can have the best possible return on their investment.
Choose Us As Your Accounts Manager
We have years of experience in accounting domain and our experts are trained well to take care of accounting needs of varying businesses - big and small.
Since our inception we have emphasized on providing the best possible service to our clients and till date we maintain that as our priority.
It is quite obvious that while investing money in Accounting services our clients would expect top quality service from us.
We understand our clients' needs and provide complete bookkeeping and accounting services according to their requirements.
Over the last few years accounting has changed a lot and we have incorporated new technologies in the framework to make our services more compatible with client requirements.
Total Accounting Solutions for Small and Mid-Size Businesses
We provide a range of Accounting services including controller services, CFO services, accounting system and integration and payroll. Our objective is to help you reduce the time that goes in maintaining accounts. As soon as you outsource the work to us you would be able to utilize that time more efficiently and in doing a more important task. Our experts are well trained in accounting practices and will be able to handle all sorts of projects with perfection. We know that in accounting there is no room for error and so we are always extra careful while recording your transactions.
Our accounting services include accounting system set-up, accounts payable, revenue accounting, accounts receivable, payroll, month-end close, cash management, management reports, financial reporting and consolidation, regulatory management, expense management, cost accounting, fixed asset accounting, bank operation authority, account analysis and reconciliation, policies and procedures. All these services are designed in such a way that they meet client specifications.
We keep our clients happy
To us client satisfaction is of highest importance and so we never compromise with the quality of our services. Clients who choose to avail our services once develop a long standing professional relationship with our experts. Economy, perfection and punctuality is our mantra and in every step we stick to this principle. It is because of our dedication and quality of our service that we have been able to retain our clients for years. If you think that we can help you, contact us and we are ready to serve you.