Article 4 : Setting up Offshore Development Center in India
---
Introduction about Offshore Development in India:
Offshore development is common among multi-national companies and large corporate houses since it offers good quality web development and maintenance services at economical cost. According to the latest research countries like Canada, UK, Australia and USA depend on offshore development projects in India for their business operations. This is because they are able to get quality results from Indian professionals and the cost of service is low compared to their foreign counterparts. This results in an enormous gain as they are able to get excellent service but without spending much.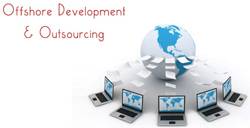 India as an Offshore Development Center
Presently India is one of the best centers for offshore development. Not only this, India also offers back-office related services r to global clients.. With the help of professional web designers and expert developers, India is delivering high class project solutions that match world quality standards at very reasonable price. So it can be concluded that in order to get a professionally designed website it is vital to opt for offshore web development and programming in India since they offer genuine and best in class web solutions.
Need of Offshore Outsourcing
Now days, offshore outsourcing has become a very prominent part of a good business model and all the companies are going for it.. The people working at offshore development centers are extremely skilled and experts in their field since their recruitments are totally based on their intelligence, technical skills and knowledge. Thus while assigning any kind of project to those experts, all the specifications are kept into mind and then the project is handed over to the most appropriate and well deserving candidate for its execution. Also the candidate is briefed about the project in detail along with the deadline within which the project has to be completed and submitted to the client.
There are a number of factors which make India a reliable source of offshore development like world class infrastructure, impressive and stable economic condition, intelligent and talented people with sound technical knowledge and expertise. Companies offering outsourcing services in India are adept at managing any kind of work. They can manage back-end operations, critical tasks, regular activities and much more. Using their service helps to mitigate the risk of running business operations. They are particularly useful when it comes to managing seasonal work. Outsourcing such periodic tasks to skilled professionals in India saves the cost of hiring part time employees to handle the extra work load.
Outstanding Characteristics of Offshore Development in India
High-tech infrastructure
Experienced professionals who are updated on latest technologies
Timely delivery
Low cost of service
Output is tested for quality before delivery
Outsourcing is a new concept and India is emerging as the world leader and for a number of companies across the world Indian IT professionals are the best in the world; they are synonymous with performance and delivery. They know about the latest trends in their market and provide rapid and quality service time and again. So stop waiting and go for offshore outsourcing to India!