Article 6 : Why Outsourcing Services to India ?
---
What Do You Understand by Outsourcing ?
Outsourcing can be described as an activity that is accomplished with the help of external involvement. There are certain services which a company cannot do by itself, and thus some outside vendor is hired to get those services fulfilled. This process of hiring services from a vendor who is not legally connected to the company is known as outsourcing. Such vendors are given responsibility of things right from the professional requirements to the company's cafeteria and a lot more.
Growth of Outsourcing
Today's challenging business environment demands reduction in costs while maintaining efficiency in output. Outsourcing is clearly the answer to such needs because tasks are done by skilled professionals at a fraction of the cost involved in doing them in-house. With experts managing the tasks allotted the quality of output is high and satisfying.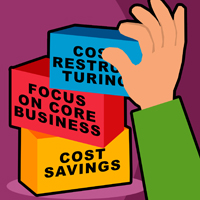 With the passage of time, many changes have taken place in the system and nature of outsourcing. Initially the business had just a very small scale part but now days it had turned into an enormous partnership agreement which is extremely necessary for almost all the businesses to survive in today's market scenario. In this business model, both the parties get equal share of profits and losses that comes out of the business. So the risks and rewards are almost same for both the agents. Scope of outsourcing in India
India has got a good resource in terms of talent and intelligence. India is one of the pioneering markets in the field of software development. There are a number of world class systems installed in India which can help a company to develop and grow to its potential. The biggest example to this is the Call Centre industry in India, which has recently established itself and now has become one of the top employment providers and growth pertaining industries in India. Most of the people are diverting there segments to India.
India is emerging as one of the most ideal place to outsource services too. The basic reason behind this is the way Indians handle the legal issues; i.e. any company, while outsourcing services to India, need not to face big legal issues. The reason behind this is laws are amended regularly and are enforced in an effective manner.
Where to Get World Class Outsourcing Services ?
There are a number of services which can be outsourced to India like Multimedia services, Engineering Services, Health care services, Data management services, financial services, Staffing services and a lot more. Outsourcing companies have been in the market since a very long time and have developed loyal clientele. They are known for providing best in class services and this is why they are known as the world leader. They deliver services to them on time and exactly according to customer requirements.
Now if you also want to improve your efficiency and profit in business then all you need to do is to opt for quality outsourcing services. This will be the best move for your business because of the many benefits that it provides.
Related Post: Why Outsource To EnggServices2India