Manufacturing Support Services
---
The manufacturing sector has undergone huge changes in recent years and nowadays it is more important than ever to employ the latest technologies in the manufacturing process in order to have the best output. At Engineering Services India, we always try to bring the most reliable as well as cost efficient manufacturing support services. Our experts take care of the entire Concept-to-manufacturing process and are able to deliver the best possible services to our clients. While dealing with us, our clients can be rest assured of having the best possible service at the lowest possible cost. Moreover, we incorporate experience with expertise in order to help our clients get top notch service in manufacturing support.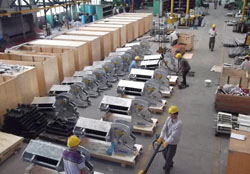 We specialize in helping our clients manufacture products with a high precision output and at a competitive price. We know that in a competitive market it is most important for each and every organization to stay a step ahead of its competitors and so the services that we provide are designed to meet our clients' requirement down to the last detail. With the help of our Product engineering services clients can easily give a boost to their overall production. By choosing our services, clients can take it for granted that their task is in safe hands and it will be completed on time.
Key Highlights
First, we offer access to the most recent technologies to be in sync with the changing times and pass the benefit to the clients. With years of experience in the field of System engineering and related services we have developed a name as one of the most reliable service providers in this field.
Second, our services are designed to help clients reduce their operational cost by introducing latest technologies in the process. We are able to cater to the specific demands of clients in respect of Value analysis and value engineering process thus making it easier for our clients to get what they want. Our experts are trained and qualified enough to handle almost all sorts of projects, no matter how big or small it is.
Third, our vast range of services in Manufacturing operations encompass automation and control, power and motion, electrical and electronics as well as heavy machinery. Hence it is possible for clients from different industrial backgrounds to avail our services. We also offer manufacturing support services in product life cycle management, customer relationship management and supply chain management.
Fourth, we understand that the thing that matters most for business managers is the return on investment and so we have designed our industry specific services in such a way so that our clients can have the best possible return on their investments. We offer Low-cost manufacturing and prototyping services along with Service management services in order to allow our clients realize the return on their investment.
At Engineering Services India, it is always our priority to bring the latest and best possible MES solutions to our clients. We offer our service through Business process outsourcing which makes it more cost efficient as well as reliable.
Our Prestigious Clients
---