Article 5 : Stay Focused on Your Core Business by Outsourcing Services to India
---
Requirement of Outsourcing Services to India
In today's competitive market scenario, you want to be one step ahead of your competitors to survive and make it to the top. The concept of "Survival of the fittest" is the present marketing trend. . Companies have to constantly innovate and explore new business opportunities. They have to decrease their operating cost and increase their productivity. Outsourcing certain operations is a common practice now by companies to cut costs and save time spent on non-core activities. It is very important for the non-IT companies to hire a good and reputed IT outsourcing service provider.
Below mentioned are some points which can prove to be helpful for enhancing your business with the help of Outsourcing services to India: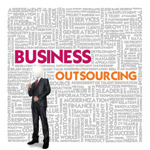 Get Benefitted by Quality Solutions & Services :

---

Outsourced work is performed by people who are highly skilled and efficient. They have the technical expertise and the experience hence results are excellent and satisfying. By using their services y you can spend much of your time in focusing on core functionalities of your business as the outsourced company will take care of the non-core tasks entrusted to them.

It Does Not Require any Infrastructure Cost :

---

When you hand over a project to an outsourcing company, they will complete your project in time for you to deliver it to your client and make profit. You need not invest in any new infrastructure; the outsourcing company will do whatever it takes to complete the work. This will save enormous costs in getting tasks done as setting up an infrastructure is one of the key areas where companies spend money; they will install the software required, hire the right professionals and get the task accomplished.

No Need to Hire Professionals or Sign Long Term Bonds with Employees :

---

You need not hire professionals for handling projects. Even if you hire an experienced professional, you need to make him understand the culture of your company and he will also take some time to adjust into the new atmosphere. Also you have to explain each and every detail to him related to the project which is time taking as well as hectic. BY handing over the project to an outsourcing company, you are 100% confirmed about the quality and standard of work.

Reduce Overhead :

---

By outsourcing there is no need to spend money in hiring professionals to do tasks in house, thus reducing operational expenses. You can outsource regular activities as well as periodic work to qualified professionals at low cost. There is no need to spend money on office space, equipment and training for getting work done.

There are a number of advantages of hiring services from outsourcing companies in Indi however before getting in touch with any company you need to be extremely careful and particular about your requirements so that you can avoid being cheated. Don't wait! Just search for the best outsourcing service provider and make your business grow!