Article 3 : Increase Efficiency and Competitiveness by Outsourcing
---
Enjoy extended Profits by Outsourcing!
There are a number of factors that contribute to the growth of a company. Dedicated and consistent efforts and 100% attention is required to succeed and gain profits. There is no room for error especially when dealing with client projects. Even a small mistake can turn out to be a big blunder and can cause irreparable damage to the prestige and reputation of the company in the market. One way of ensuring flawless work is by opting for business outsourcing to companies in India. By outsourcing to companies specializing in particular tasks not only can they be completed on time but their quality is very high. This brings enormous benefits to your business. You will be able to deliver better results to customers which will popularize your brand and increase profits.
Existence of Outsourcing Companies in India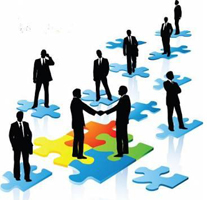 There are a number of outsourcing companies in India which provide world class services to their clients. These companies are equipped with state of the art technologies and trained professionals that pair up to form a solid team. They deliver flawless work.
Advantages of Business Process Outsourcing
The biggest advantage of outsourcing is the time factor; you can focus on core operations and leave the non-core part to be handled by the outsourcing firm. This gives you scope for increasing efficiency in operations, planning for expansion and future ventures, etc, which directly lead to generating more revenues and leads for the company. Apart from this, there are a lot more advantages of outsourcing, some of which are mentioned below:
It saves a lot of work load on your part and helps in reducing a large extent of operational cost and manpower. There are some tasks which require special expertise to be accomplished and there is a possibility that you may not have experts in that field in your staff. This leaves you with two options, either hire a professional for the task and make him understand things, and train him before assigning the project to him; or t to approach a good outsourcing company and get your project done by experts. This is where the need of outsourcing arises.
It also helps in improving the overall productivity of your company since the company professionals get more time to focus on their core business rather than getting bogged down with the non-core part. This non-core part can be easily handed over to an outsourcing company.
It brings down time taken to complete an activity or a group of activities. Since the BPO center specializes in the outsourced task and has a team to manage it, work is completed faster.
What work should be outsourced?
There is a huge list of things that can be outsourced such as data entry, medical insurance, data conversion and data processing services, ICR/OCR processing and a lot more. You can opt for any level of service such as back-end, short-term, medium-scale, long-term, research-oriented etc, depending on requirements. The list is never ending. So stop wandering, get connected with the best outsourcing company and be the best!